Safety with comfort - SCHÜTZE-SCHUHE at SAWO Fair 2022
Production is the heart of SCHÜTZE-SCHUHE. From the outset, SCHÜTZE-SCHUHE Company have striven to manufacture high-quality shoes in a difficult marketplace. To achieve that goal, high-quality materials, a comfortable fit, skilled workmanship and a passion for the craft of shoemaking are the prerequisites.
SCHÜTZE-SCHUHE
1892 FOUNDATION STONE IS LAID IN MISTLBERG NEAR TRAGWEIN The foundation of the family run company Schützeneder dates back to 1892. This was the era when the escalator was registered for patent, toothpaste was sold for the first time and Coca-Cola was founded. In 1892, the master shoemaker Simon Schützeneder founded a shoemaker's workshop in Mistlberg, which was still an independent municipality adjacent to Tragwein at that time. The founder had four sons, who all trained in their father's profession and gained their master's certificate.
1925 FOUNDATION BETWEEN THE WARS IN THE TOWN OF TRAGWEIN 1925 Seven years after World War I, the eldest son, master shoemaker Karl Schützeneder, bought a house on the main square in Tragwein, where he established a shoemaker's workshop. After a short time he employed some craftsmen and apprentices.
1965 THE NEXT GENERATION DURING THE ECONOMIC BOOM In 1965, Karl's son Willibald Schützeneder took over the company and changed the manufacturing to series production. He enlarged the workshop on the main square of Tragwein and produced shoes for the Austrian shoe retail trade. In 1982, the company specialised in flexibly stitched uniform shoes and started to supply all Austrian public authorities and state-owned enterprises.
1991 KEY CHOICES FOR THE 21ST CENTURY 1991 marked a new phase, when Willibald's son Thomas Schützeneder entered the business. The production was directed to safety and professional shoes for trade, industry, the building and related trade. In 1996 a proprietary patent was filed and obtained, which included a process for the rational production of shoes with rubber-PUR soles. In 1998 a direct soling system for rubber-PUR was purchased to produce comfortable and extremely durable safety shoes according to the patented method. The production was automated by this measure to secure the production site of Tragwein.
2002 A NEW STEP IN THE FUTURE From 2002 to 2003 new company premises were built on the edge of Tragwein in order to fully exploit the advantages of the new technology. Logistics and distribution were expanded correspondingly. After having moved to the new company premises in 2003, automatisation was further intensified with three six-armed robots. In 2008 the new asphalt shoe came onto the market after 2 years of development setting new standards in this range of requirements.
2009 HARD WORK IS REWARDED 2009 Awarding of the Upper Austrian business award "PEGASUS". 2015 Awarding of the Austrian national code of arms for exceptional business achievement.
2012 DEVELOPMENTS IN MEDICAL DIRECTION In 2012, a system for processing orthopaedic safety shoes was developed in cooperation with the Austrian orthopaedic specialist dealer Medwalker, which was launched under the brand name SCHÜTZE-MED. This was the starting point for the distribution of modular systems for creating orthopaedically modifiable safety shoes according to ÖNORM Z 1259.
2013 TECHNOLOGY. TECHNOLOGY. TECHNOLOGY. 2013 Development of a new sole generation in polyurethane and purchase of an 18 digit direct PUR-soling system for the production of light and fashionable safety shoes.
2018 ADAPTION OF THE 18-DIGIT PUR DIRECT-SOLING SYSTEM Standing still means going backwards and we don't want that. We are constantly moving forward in order to remain competitive and, above all, to remain successful. Of course, there is no downtime in our production facilities either. The system has been equipped with new 6-axis robots that support our employees in their work.
2021 INVESTEMENT IN 24-DIGIT PUR DIRECT-SOLING SYSTEM In order to continue to secure the location well, we invested in a new 24-digit PUR direct-soling system at the beginning of 2021. We are thus able to expand the variety of models and consequently to further increase our market share.
The 5th generation (FLORIAN SCHÜTZENEDER, MSc) has been with the company since January 2021.
As of July 2021, the company is ISO 9001 certified.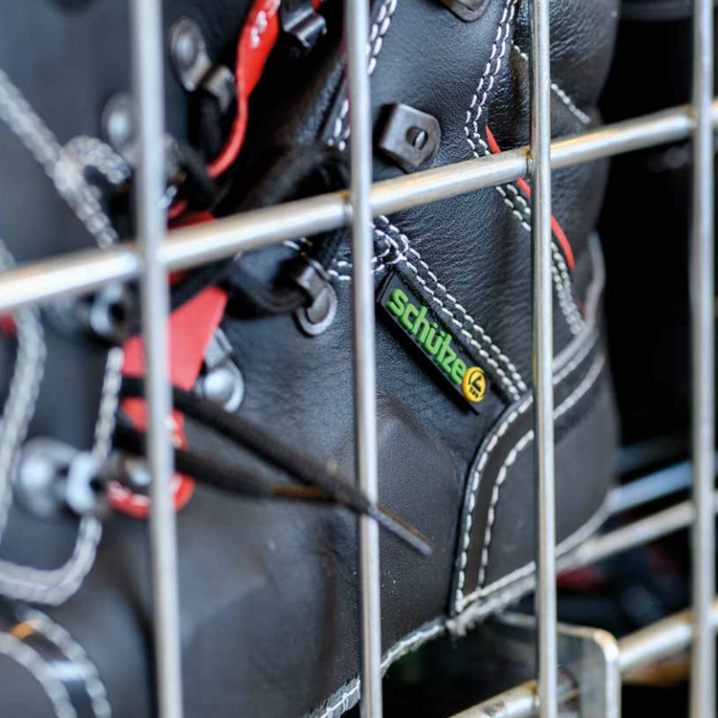 At SAWO Fair 2022 company will present wide range of safety footwear. One of the new product is SCHÜTZE ASPHALT PRO. 
The only safety shoe that earns money. Why? The answer is quite simple:
SCHÜTZE ASPHALT-PROFI is the only shoe enabling your employees to work on hot asphalt for more than an hour without putting their health and/or safety at risk. 
DO YOU KNOW ANOTHER ONE?
THE SOLUTION FOR WORK ON HOT SURFACES
The soft WATERPROOF-LEATHER turns the SCHÜTZE-PRO-SERIES into a COMFORT ZONE for your feet. Natural perforated orthopedic leather lining round off the high-quality materials and ensure an optimal foot climate.
Details:
Norm: EN ISO 20345:2011, ÖNORM Z1259:2017, DGUV 112-191
Protective function: S2
Additional tests: HI - CI – HRO - SRB
DESCRIPTION
Upper leather - water, oil and dirt resistant genuine leather in special quality, thickness approx. 2.1 mm
Lining leather - natural, perforated orthopaedic leather lining, thickness from 1.0 to 1.4 mm
Toe-protection cap - high & wide FreeToes toe cap in steel, with flexible transition lip
Cushion - replaceable cushion inlay with spherical heel and distinct arch support, anatomically; formed, moisture regulating, respiratory active, antibacterial & washable
Insole - genuine leather, herbal tanned, thickness from 2.4 - 2.7 mm
Sole - DUO SOFT-ACTIVE sole (rubber PU), SEALING SOLE EDGE SYSTEM patent nr. 403677; nitrile rubber mould (slip resistant, microbe and acid resistant, oil and fuel resistant); polyurethane foam body (lightweight, shock absorbent, permanently elastic); well isulated with special heat resistant fibre material; heat and cold insulated according to EN ISO 20345:2011 (HI-CI); contact heat resistant up to 300°C according to EN ISO 20345:2011 (HRO)
Sizes - 40 - 48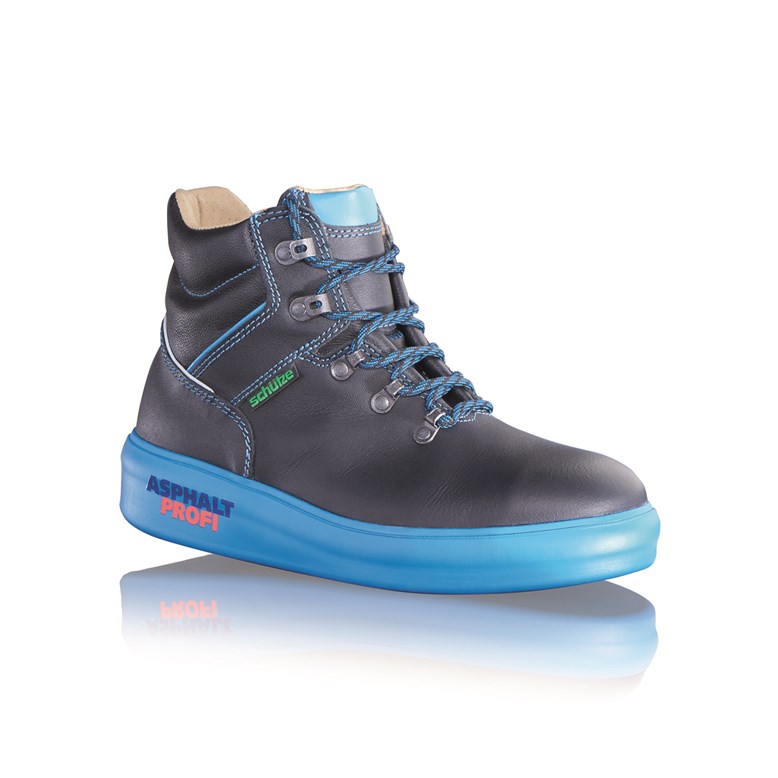 More information about company: https://schuetze-schuhe.at