SAWO 2024: Safety the key to success!
Already more than 150 exhibitors have declared their participation in next year's SAWO International Trade Fair of Work Protection, Fire-Fighting and Rescue Equipment. The 2024 edition promises to be excellent - in Poznań, trends in the occupational safety and health industry will be set as part of an unusually rich exhibition, and a sizable number of the fair's exhibitors will present many novelties, market premieres and innovative solutions of the future.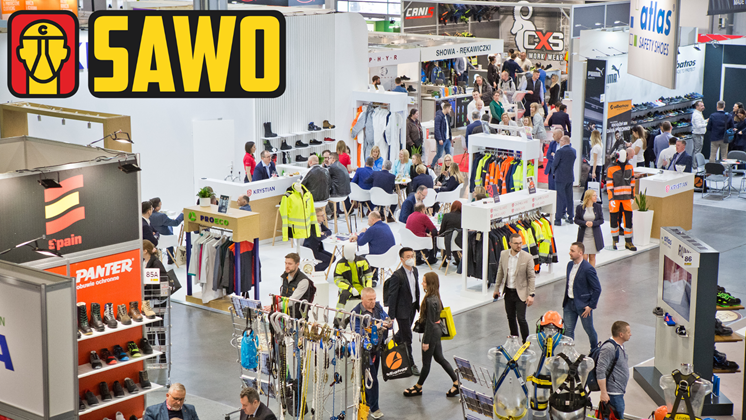 The upcoming edition of SAWO, scheduled for April 23 - 25, 2024, is a unique event in our country that serves to protect life and health in the working environment and directly contributes to the introduction of advanced technologies and solutions in companies that improve the quality of work and safety of the people employed. Sawo is not only an exhibition, it is also a place to exchange experiences in the fields of occupational safety, ergonomics, wellbeing, rescue, fire protection and other related issues.
- The current development of the field of occupational health and safety in Poland is extremely promising and reflects an increased awareness among both employers and employees of the crucial role of occupational health and safety in everyday working life. We are seeing the rapid development of modern technologies, such as smart wearable solutions and real-time monitoring systems, which not only improve the effectiveness of H&S activities, but also represent a step towards a forward-looking approach to protecting employees. - informs Dagmara Suprun, the new director of the SAWO trade fair. - The development of the occupational health and safety industry in Poland goes hand in hand with global trends, taking into account both local and international safety standards. We are also seeing a growing interest in sustainability aspects, where care for the environment and the mental health of employees are becoming key elements of OSH strategies - the Director adds.
The fair is gaining momentum
Industry leaders have already joined the ranks of exhibitors at the upcoming edition. The latest technologies for the occupational safety and security sector will once again fill the halls at the Poznan International Fair in April 2024. Although there are nearly six months left until the start of SAWO, the exhibition space has already been largely booked. Proof of the huge demand for meetings of professionals that the SAWO fair is, is the strong representation of key companies in the OSH and fire safety industry, a comprehensive range of supplies for workplaces, firefighting or rescue (protective and work clothing, hygiene products, safety equipment, safety signs, equipment for emergency services).
- We appreciate that our exhibitors treat their presence at SAWO as a "sure thing" and include it in their business calendar recommending participation in the event to other companies as well. Today we can already proudly announce that participation in SAWO 2024 has been announced by leaders such as: AIRTOX, ALPHA AND OMEGA, ASATEX AG, ASD, ATLAS, BO SAFETY, COFRA, DRAEGER, EJENDALS, ELTEN, GALILEE GMBH, GTV, HORUS, HULTAFORS GROUP POLAND, IMPEL, IRUDEK, KRYSTIAN, LEBON, LEMAITRE, LYRECO, MASCOT, MEWA, MILWAUKEE, OXYLINE, PLUM SAFETY, PORTWEST, PPO, PROMOEFEKT, PROTEKT, SAFETY JOGGER , SIR SAFETY, STALCO, UNIGLOVES, UVEX, WARSON, ZEPHYR. - Dagmara Suprun emphasizes.
Reach for knowledge
An attractive exhibition, product premieres and novelties are just one of the factors determining participation in SAWO trade fair. Increasingly, the magnet that attracts all safety enthusiasts to Poznan is the program of accompanying events that complement the exhibition. Visitors to Poznań can count on participating in spectacular shows and substantive conferences organized by such partners as the State Labor Inspectorate (PIP), the Central Institute for Labor Protection (CIOP), the National Association of Occupational Safety and Health Service Employees, the State Fire Service, market experts and industry media. Striving for continuous improvement of working conditions is becoming an integral part of organizational culture, which is extremely important for building a safe and healthy work environment.
An additional advantage of this year's SAWO is that it is being held during the strongest event of Spring 2024 - the entire occupational health and safety, RES, installation, energy and heating industries are taking place in one place and time! The SAWO International Trade Fair for Occupational Safety, Fire Fighting and Rescue will be accompanied by SECUREX International Security Fair, INSTALACJE International Installation Fair, GREEN POWER International Renewable Energy Fair, EXPOPOWER International Energy Fair and H2POLAND Central European Hydrogen Technology Forum.
You have to be here!
SAWO is the most important and largest trade fair for occupational protection in Central and Eastern Europe, a well-known and recognizable brand. Each edition attracts the attention of the occupational safety and health sector from Poland and abroad. Professionals, both practitioners and theoreticians, do not allow themselves to miss this important event that inspires and motivates development. Let's meet in Poznań at the SAWO fair on 23-25.04.2024.